This morning I started the day watching the sunrise over Waikiki from the Fort Derussy beach. There were some beautiful pink and purple colors in the sky which were really hard to capture with the camera.
I swam for a little in the water since it would be my last opportunity. There were some rocks, but for the most part it was very sandy and good for swimming. Fort Derussy beach is a nice location because it has a great view of Diamond Head (better than Waikiki as far as I am concerned).
After swimming I checked out ($38 a day for parking, but there wasn't really a day I didn't use the car at least once). Parking fees seem to be a necessary evil in Hawaii.
After checking out I stored most of my luggage at the resort so I didn't have to have it in the car the entire day. I only took the drone, camera, water and some snacks with me. I put the water and snacks in the car then walked over to the Army museum as I didn't visit the second floor that had the cobra helicopter and the Army Core of Engineers display.
I walked to the Paia Fish Market for lunch. I had the fish and chips which was Mahi Mahi. It was good, but nothing to rave about. They had great french fries and the onion rings were tempura battered.
Fresh Fish With Aloha | Paia Fish Market Restaurant
Paia Fish Market is the best reviewed seafood restaurant in Hawaii. Local fresh fish with Ahola. Located in Paia, Lahaina, Kihei and Waikiki Beach in Oahu.
I bought tickets for the Bishop Museum online since they have restricted entries because of the novel coronavirus. The scheduled time for entry was 1 PM to 5 PM. I arrived around 1 PM.
The museum was quite large and had a large amount of Hawaiian and South Pacific artifacts, including some from New Zealand. Most of the Hawaiian artifacts were very similar to those I saw in the Kaua`i Museum. it took over 3 hours to go through the museum and I didn't use the audio guide which would have slowed me down further.
I stopped in the surfing exhibiting briefly – they had a few of the old surfboards on display and they were very long… some as long as a car.
I also walked through the Science Center which has an interactive exhibit on volcanoes that was closed. I did like the large pieces of volcanic lava.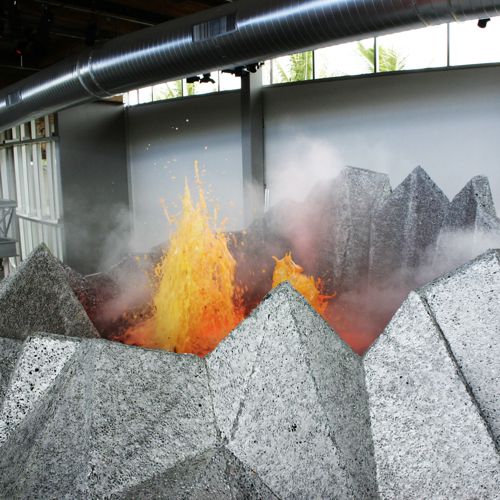 Science Adventure Center Audio Tour – Bishop Museum
The Explosive Truth:A Volcano's LifecycleAudio Tour
After the museum I stopped at a Starbucks for a Chai tea to increase my energy and drove to the Ala Moana Beach park to watch the sunset. Unfortunately there wasn't much of a sunset and even started to rain. Luckily I was able to find a parking spot near the beach and a bench, so I didn't have to walk very far.
I drove back to the resort and retrieved my luggage , reorganized my luggage and drove to Costco to get gas. It's about a dollar a gallon cheaper at Costco in Hawaii than the other stations. It's easy to make your membership fee back with gas.
I arrived at the airport early – very early. I thought returning the rental car would be easy because Alamo was closed they told me to return it to National at the airport. I thought great – no shuttle. I was wrong. They decided to tear apart the airport and there was a detour to get to the rental car center (and a very hard left turn). Luckily I didn't get lost, but one guy who came after me said he must have made 3 loops and saw others doing the same thing. I was lucky I wasn't in a rush, it would have made the situation more stressful.
I checked in for my flight without and problem, drank some water and ate an apple before going through security. I took the empty water bottle with me.
Security was almost simple, the TSA Pre-Check lane was not fully closed. I managed to go through without any problems. After the checkpoint on the way to the gate I found a place to refill my water bottle.
The first class seats were nothing spectacular. They reclined and had mounts for phones / tablets.
The flight attendant gave us some snacks (popcorn, pringles, cookies), but no real food. Drinks were provided. I managed to get a little rest on this flight, although it is still difficult with the reclining seats.